Welcome to my first in a series of talks for Catholic families, Praying the Mass with Babies, Toddlers, Kids and Teens.
Praying the Mass with Babies, Toddlers, Kids and Teens – PDF of the PowerPoint slides.
Resources related to this talk: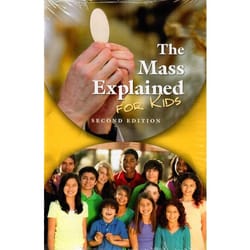 My review of The Mass Explained for Kids is here.  Highly recommended for children and adults ages 8 and up.
Return by Brandon Vogt. If you'd like to continue the quest of bringing your family, friends, and community back to the Catholic Church, the book you want is Return by Brandon Vogt.  You can read my endorsement here.
Here's Brandon's quick article on Seven Steps to Bring Any Young Person Back to the Church.
This works.  Do this.
How to Pray the Chaplet of Divine Mercy in a Group – PDF instructions.
The chaplet of Divine Mercy is a prayer that is prayed on an ordinary Rosary. It is a way of "pleading the blood of Jesus" as you might have heard some Christians use that expression.  We are asking God to remember the sacrifice of the Cross and have mercy on us.
One thing we know in the Catholic Church is that Mary always leads us to Jesus. So it's poetic that the Rosary, which is a meditation on the Life of our Lord, in turn gives us this meditation on our Lord's sacrifice for us.
You may recall "Divine Mercy Sunday" is always the Sunday after Easter Sunday.
While it is usual to pray the Chaplet of Divine Mercy at 3pm, this makes a good closing prayer for families because it is short, simple, and the kids enjoy praying it as a group with their friends.
The instructions are in the link above. We'll have one leader give the opening prayers. and then a leader for each decade, and a final leader for the closing prayers.
How to Make Divine Mercy Sundaes courtesy of CatholicIcing.com.  Divine Mercy Printable coloring sheet courtesy of RealLifeatHome.com.
Cover art courtesy of https://helpthemreturn.com/game-plan and Pauline Media.  Chaplet of Divine Mercy instructions courtesy of Good Shepherd Catholic Church in Montrose, MI.