Thanks to our host Jen Fulwiler at Conversion Diary, where you can see as many quick takes as a person could stand.  Of course you'll pray for Allie Hathaway before you click the link.
***
Aside from the fact that Las Vegas, Nevada is the pit of depravity —  when Stephen King wrote The Stand he got it right about that — it's a great place to visit.  I prefer to go in the spring or fall, or in the winter when you can play in the snow on Mt. Charleston, but my friends and relatives always seem to be coming up with reasons I should go during the Months of Death.
And it turns out you can have fun in the desert in the summer, even if you are like me and not only despise gambling but you hate it too.  Here's my list of the 7 Best Things to in Las Vegas in the Summer:
1.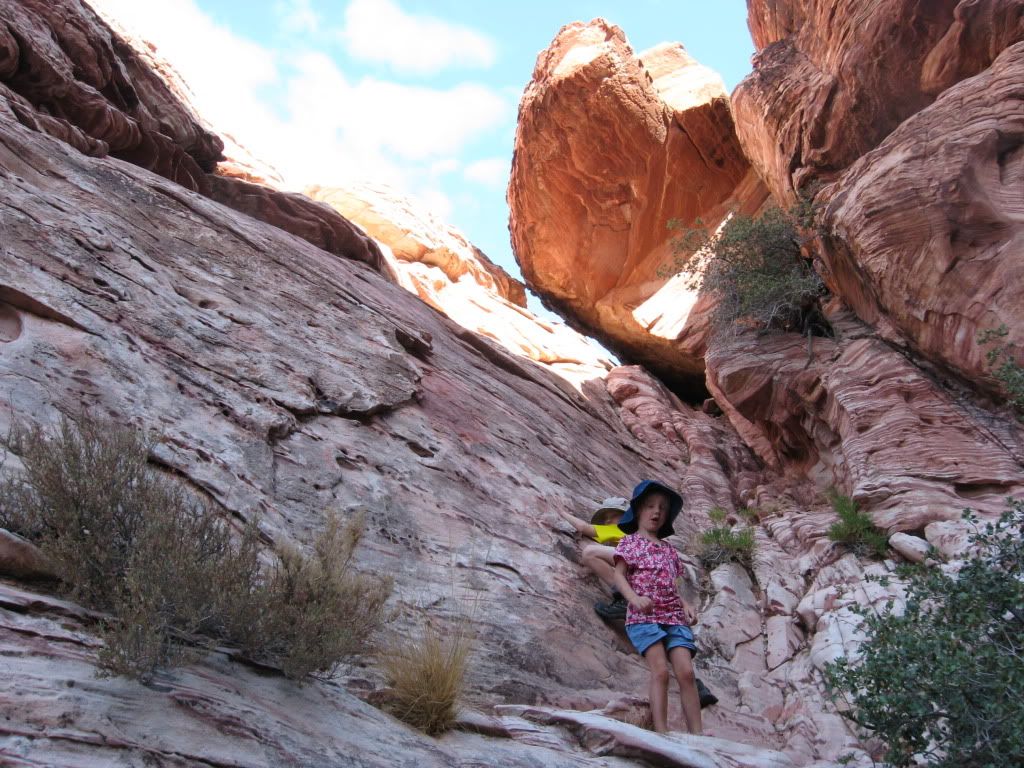 Hike around Red Rocks National Park.  See all that shade?  As you enter the park, on the right side at the beginning of the scenic loop are these lovely red cliffs that provide morning shade until about 10 AM ish.  So that in the middle of the summer, you can hike in metro Las Vegas and not bake.  It is a magical thing.
Summerlin, by the way, is the community at the foot of Red Rocks.  Upscale, has places like an REI store, Starbucks, everything you need to refresh your inner 1% after too many minutes observing the masses in front of the slot machines.  One of my very favorite Las Vegas activities, though it isn't summer-friendly so much, is walking the neighborhoods looking at the xeriscaping.  The yards are very small, and so in the wealthier areas people go all out to make interesting gardens.
2.
Visit the Adventure Dome.  I usually hate amusement parks because you have to stand outside in the heat, and you can't come and go freely.  The Adventure Dome avoids both these problems.  Get an all day pass, come and go as you like, and on a weekday evening the place empties out after a certain time and you can ride the roller coasters without waiting in the line.  The whole time you can see the sky through the rose-colored dome, but bask in the refreshing breeze of the air-conditioner all the same.
I guess you also lose all your stature as an environmentalist, but you had already lost most of it by showing up in Las Vegas anyway.
3.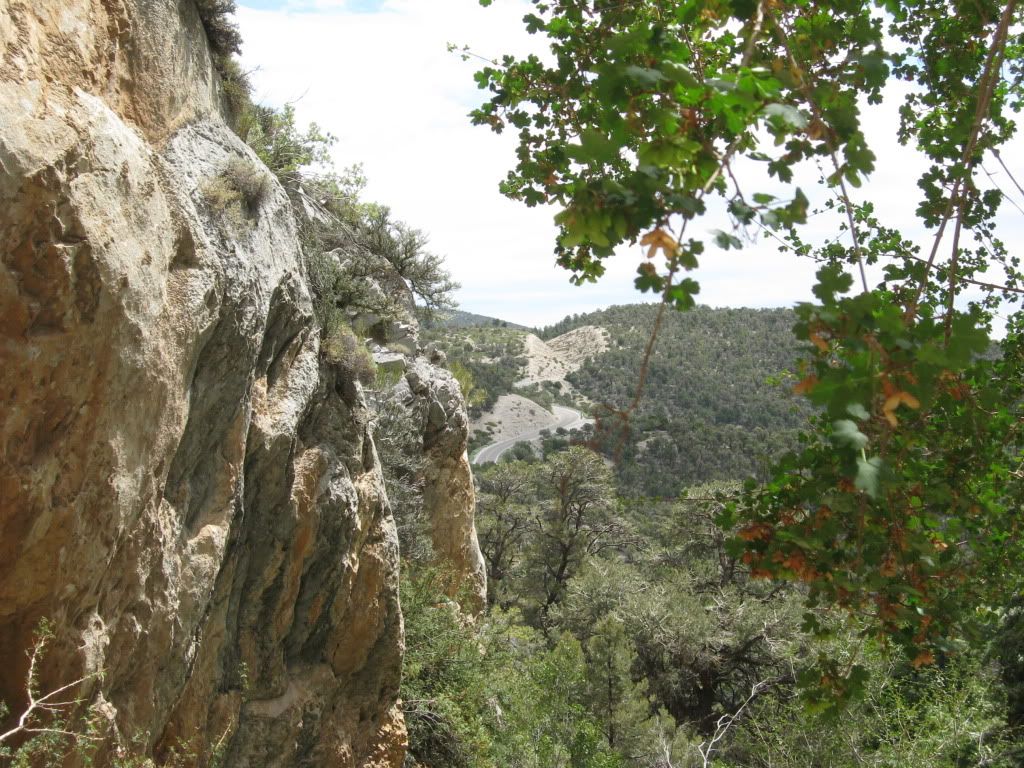 Hike around Mt. Charleston.  Or just drive up and picnic.  Cool, pleasant, think 70-80 degrees.  If you are hiking any distance at all, pack gear for inclement weather.  I've been pushed off the mountain by afternoon rain (cold!)  and hail in August.  If you are a lowlander, be mindful of the altitude so you don't explode your brain or bust a lung or something.
4.
Hang out at the Mandalay Bay.  Actually I have never done this.  (But soon?  Yes!) But I tell you about it because this is where my sister's family used to go for weekends "away" when they lived in town — book a room for the weekend, and then you can hang out at the beach in between running the kids to soccer practice and stuff.  One of the nice things about Las Vegas is that the sprawl really is not that bad for a city its size.  You can get back and forth between the strip and the suburbs pretty quickly.
(Now my sister is sensible and spends her summers in metro Portland.  I'm not allowed to tell you about that.  We'll just pretend the Pacific Northwest is cold and rainy all year long, and that there is no reason you should consider a summer vacation to that corner of the world.  Nope.  You didn't hear it from me.)
5.
Quit Las Vegas altogether and go to Zion National Park, the North Rim of the Grand Canyon, or Great Basin National Park.  If you have a week in Las Vegas, it is worth considering whether you really want to spend a week in Las Vegas.
All three of those parks are summer destinations.  Save Death Valley for your winter trip.  Don't let the name fool you.
6.
Hoover Dam.
7.
Whatever it was you came for.  You have to do that at least one day, right? 
Unless you really did fly all the way to Las Vegas just to hang out in some dank casino wasting your money and losing your hearing.  In which case, maybe um, take in a movie, or go to masstimes.org and work out a tour of the daily masses, or go shopping . . . ?  Something, anything.  I heard there's  a good quilting store in Henderson. Oh, and the Children's Museum isn't half bad.  And the Springs Preserve is delightful, if you can withstand the weird combination of eco-worship and eco-confusion in the propganda buildings.
Maybe it would be better if you just stayed home this year.