Working backward through the title, we begin with some thoughts on the feast of the Chair St. Peter, as written several years ago in anticipation of today's feast.  Jesus has just given the eat-my-flesh ultimatum, and as others are leaving, our Lord asks Peter if he's going, too.  Peter's response is one of my two favorite St. Peter quotes:
"To whom should we go, Lord? You alone have the words of everlasting life."

. . . He doesn't say, "Goodness, no, Lord! We know what you really have planned, and it all makes perfect sense." He doesn't even say, "Well, your forearm looks like it might be palatable enough, if I could call dibs." Peter doesn't have an argument. He cannot make the case that what Jesus is telling him he must do is perfectly reasonable. What Jesus is telling him to do is perfectly unreasonable. . .

Peter's answer? Well. I don't know how this can possibly work. I don't understand it and it doesn't make sense. But I know you, and I know what you have done so far. I know you can forgive sins. I know you can open the very gates of Heaven. Where exactly else am I going to go? You're all I've got.

Um, I don't really have any place better to be, Lord, so I guess I'll stay.
This is an excerpt from the free Lord You Know I Love You retreat. (You can find out my other favorite quote by clicking through and scrolling to p. 7.)   The retreat is suited for use on your own or in a group, and comes with a pile of suggestions for how to adapt it for different situations.  Two ways to use it this time of year:
Use it over the next week to reflect on what you'd like to undertake for Lent.
Use it during Lent to reflect on where you need to grow in your faith over the next year.
Both versatile and free. That and my other free downloads can all be found here.
And finally, at Mass this morning, Father brought up in passing the topic of authority in the home.  He was using the example of a father's authority over his household as a way to explain to the children the idea of the pope's authority.
People get upset about this idea.  I think they are not paying close attention.
Here is something you must understand about marriage: No man becomes the head of his household until his would-be wife appoints him to that position.  Likewise, every man who heads the family home has on hand for advice, admonishment, and loyal opposition the woman he chose for that work.   This is not despotism.  Marriage is the purest democracy we've got.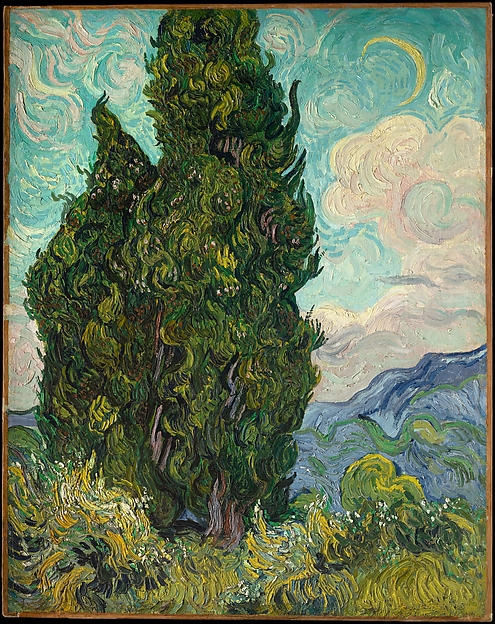 In celebration of the Met making its collection available online for download, enjoy these Cypresses [public domain].  Details about the painting are here, including related works of interest and loads of other good stuff.  Bless these guys, amen.