I was attempting to answer the question for my kids of whether an improvised mask, such as a cowboy-style bandana over your mouth and nose, could help slow the spread of disease.
Hypothesis: Even though an improvised cloth mask won't filter viruses, it does limit the distance air coming out your mouth travels, and therefore reduces how far any germs get spread while talking, coughing, sneezing, etc.
Experiment: Well, about that.  So my plan was to set up a measuring tape on the bathroom floor showing the six feet of "social distancing" and then blow various lightweight items (dust, loose powder, wadded up scrap paper) using the hair dryer.  We'd see how far the hair dryer blows these items when unmasked and how far it blows them when masked with various garments — my favorite scarf, a standard bandanna, etc.
I decided to run some preliminary tests before the kids woke up, because if my hypothesis (or my experiment) was obviously wrong, that was something I could learn on my own, thanks.
I got the measuring tape out, found a scrap of (clean!!) toilet paper on the floor (note to self: CLEAN BATHROOM), and dug out my circa-1994 Salon Selectives hair dryer, currently collecting dust thanks to social-distancing.
==>Thanks Mom! That was an awesome Christmas present, even though I wasn't sure what to think about it at the time. Just a few months ago we were marveling it had held up so long and showed no signs of giving up the ghost.==>
With the dryer on its high setting, I could blow a scrap about four feet.  I put the bandanna over it, and could only blow it about one or two feet.  Also, there was this slight burning odor, which I figured was all that collected dust burning off.  No big deal.
I was pleased by my preliminary findings, but more pre-testing was in order before calling in my skeptical children.  It was possible, for example, that I was seeing such dramatic differences in how far the paper scrap would travel because I was not consistent in how I aimed the hair dryer.
I did some experimenting with holding the dryer at different angles, un-masked, chasing that scrap of unused toilet paper around the bathroom.  Then I put the bandanna over again.  Not nearly as much air-power, again with the burning smell, and then: Experiment over.  Hair-dryer shorted out.
Yikes.
No amount of hoping I'd tripped a breaker bore fruit. After a quarter-century of faithful service, my hair dryer is no more.
Conclusions:
(1) I should not be left unsupervised with valuable machinery.
(2) An ordinary bandanna provides enough airflow resistance that it can wreck a hair dryer.
(3) If you're contagious and you want to share space with me, yes, I would much rather you covered your mouth and nose with one of those masks that "does nothing" because it sure seems to me like having your germs go not-very-far is better than having your germs fly closer to me.
(4) I can't afford to resume this experiment on my kids' hair dryer, because I have three teenage daughters who will mutiny if I wreck their machine, as they do style their hair in quarantine. Therefore,
(5) I'd be grateful if other people would take up the cause and run experiments to see if my preliminary findings are reproducible.
Thanks!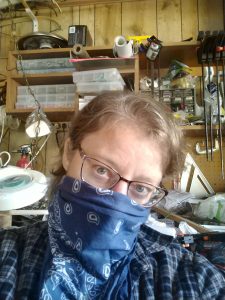 Photo: The guilty parties (me and that bandanna), posing in my makeshift office in the garage.  I love having my family at home all day, and I'm grateful my husband and I can both work from home, no matter how crazy the set-up is. Not everyone is so lucky.  Pretty sure those on the front lines keeping our infrastructure together wish you'd do whatever you can to reduce the odds you make them sick when you run your essential errands, even if it isn't perfect and 100% foolproof.