Three kids and I depart tomorrow today for the big trip.  I am not a person who packs light.  I was pretty pleased that two girls and I were able to get more or less all our stuff, carry-on excepted, into one (large) suitcase.  My big packing question is: Would I be annoyed that I had to buy this in France?
For some things I prefer not to pack our own.  Most of our toiletries we'll purchase on arrival, because I do not need some child's shampoo saturating everything we own.  That'll be fine on the return trip, but I am hoping to not see the inside of a French laundromat for a good week or so.  They can bring home the dregs of a bottle of shampoo for a souvenir.
What is killing us on luggage is that the boy is going to camp.  He wanted to see Alps.  After doing all the investigating — and I was this close to taking up learning German — the best option for giving him Maximum Alpine Experience was to send to him to a week of summer camp down in Chamonix.  Everything about that choice is good except the packing list.  The camp people want the kids to bring clothes and spare clothes and more clothes for every day.  Of course they do — who wants to be liable for a dozen freezing-naked underpacked children?
Also, I would be mildly irritated to have to buy a fresh set of camping gear in Europe, and I'm very not interested in having a gear crisis the day camp begins.  Unfortunately, my imagination does not look at a tiny-font packing list and accurately gauge how many cubic feet that will all turn into.  Thus we have a mountain of luggage despite my extremely uncharacteristic efforts to go semi-minimalist otherwise.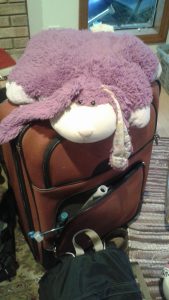 Two hippos and a rabbit have wormed their way onto the passenger list.
Weirdest thing about this trip: I am having a hard time believing it is real.  That's odd because I don't just know lots of people who travel all the time, but also I've done this before.  I've lived in France twice.  I'm not going someplace exotic to me.  I think it's that I've been so firmly planted in the stay-at-home life for the past two decades, and also that doing this was so completely impossible until so recently; until it actually happens, I don't think my brain can be fully persuaded that it can happen.
Last night we had a mini bon voyage party, which involved getting bitten by all the mosquitos and then coming home from the river to find my friend surprising me with an icon of St. Raphael.  She didn't have time to get it blessed on her local orthodox altar, so she proposed that I might want to get it blessed in France.  That would be a serious stretch outside my comfort zone, giving me a double-hit on areas of maximal shyness, but friends do that to you.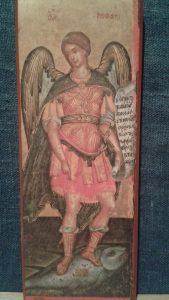 St. Raphael is the ignored angel in my life (Gabriel and Michael get all the attention, and Gabriel would tell you he's the overlooked tag-along in that pair), but here's what my friend pointed out: St. Raphael is the patron of both wayfarers and of healing.
Apt enough, and then if you add in the part about how I need to cram all that luggage into our otherwise right-sized too-small rental car, there's this: He's particularly the patron of I Can't Believe This Is Happening To Me, and also of people launching into big adventures with a terrifying stack of baggage.  At least for once he's being invoked for good crises and not bad ones.