Hey everyone, I am looking for help, quickly.  My awesome editor of the new book surprised me by wanting more, not less, info on making parishes accessible to persons with disabilities.
The question we need to cover: What is the best way for a parish to communicate with you, and vice-versa, so that your disability (medical condition, etc – so celiac, diabetes, severe allergies, chronic illness . . . all that can have parish-life implications too) can be accommodated right from the start?
Leave your comments at the blog discussion group, or message me on Facebook or Twitter @JenFitz_Reads.
We're envisioning here both scenarios where the accommodations might already be present but you still have to know about them, and situations where you show up and have to start the process (however simple or complicated) of getting full access to parish life.
I'm looking for firsthand experience from the user-end, not stories of what your parish has provided to accommodate someone else, but what you as the person being accommodated (or the parent, etc., if appropriate) find most helpful in terms of effective communication to make the accommodation happen. Anything at all relevant to that topic.
[Include here also anything related to overcoming human stupidity, when your disability is not something that should be an access issue at all, but weirdly it is because people are dumb sometimes.]
Although I do not know what our total word count for this section will be (and therefore how many detailed stories or quotes I can use), please indicate with your comment whether you are up for being directly quoted or whether you are providing background info only. If you are game for being quoted, let me know what to call you in the book. If you need to be quoted anonymously, PM me (so it doesn't show up in a public FB feed).  You can refer to yourself by full name, job title, and credentials, or you can give me something descriptive but vague such as "Mary, a retired accountant on the Gulf coast," or "John, a new convert working with an inner city ministry to street performers," or whatever suits.
If I already have your story, we're set, just remind me I've got it and give me permission and quoting info if you haven't done so already. But you might have more to say, or particular details that are pertinent to this specific question. If so, repeat with fresh info or emphasis, please.
***
Related: If you have more stories of excellent examples of being a person with a disability who is involved in evangelizing* (discipling) ministry in some manner in your parish or the community you serve, I'd be interested in hearing two things:
The big-picture story of your work (who you serve, how you serve, stories of people growing closer to Jesus), which will just as likely end up *elsewhere* in the book, not related to disability at all.
Possibly to be put in the same quote or possibly to be used as info elsewhere, stories on the details of making access happen, whether that be something already built into your ministry or something that had to be organized.
*If you're doing it right it's all evangelizing. Don't get hung up on vocabulary.
What doesn't make the book will end up getting used somewhere, if you give me permission to do so.  Let me know that.
Thank you!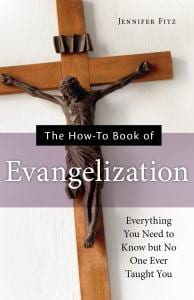 Cover Art/ Image Description: This is the cover of the book I'm asking you to contribute to, The How to Book of Evangelization, coming out in June 2020 from Our Sunday Visitor.  FYI for those who don't know, publishers come up with book covers all on their own, without the author's input on the design (they get info from the author all about the book, of course).  So it's magical that they chose a shade of purple I love, and a big ol' crucifix splashed across the cover that looks an awful lot the like one I have a view of from my office.  God provides.