Between the Metro & the March and a museum visit, we walked 7.5 miles today.
Turnout was enormous.  The column of marchers extended as far as you could see, filling the streets.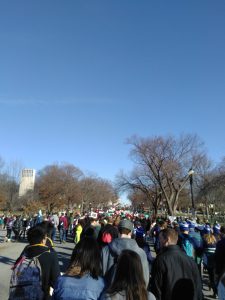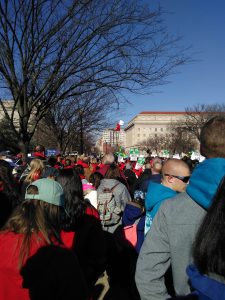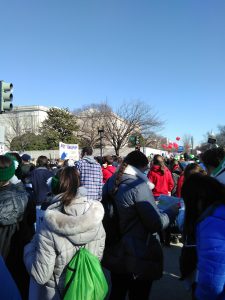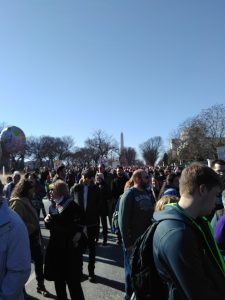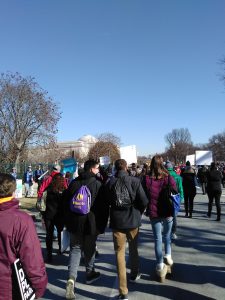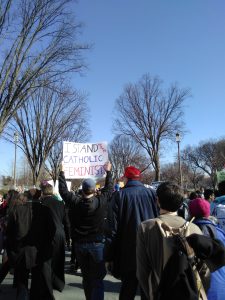 One of the things people do is come in groups with matching hats, or scarves, or t-shirts, or sweatshirts — and in one case, yellow ponchos. Many of them are very memorable.  The March is so big that you'll see thousands upon thousands of people, and then when you are walking to a Metro station afterwards, you'll see groups gathered waiting for their tour bus that you never saw the entire day until you passed each other post-March.
There were a couple marching bands along the route.  (Sound quality is my phone, not the band – they were super.)
The atmosphere varies as you go, but it's always friendly and peaceful.  We prayed along with part or all of various Rosaries and Chaplets of Divine Mercy being led by participants:
As the roads widen and narrow, and people walk at different paces, you end up here and there, walking alongside all kinds of different people.
We ended up stopped for a bit next to this group in blue sweatshirts:
The baby on the back of the sweatshirt was actually on last year's March, in-utero, then born prematurely, and now doing great.  The adult hand in the picture is the father's hand: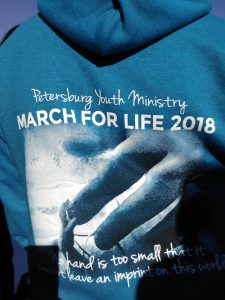 The caption at the bottom is: No hand is too small that it cannot leave an imprint on this world.
***
And something amusing . . .
.
.
.
.
All dogs go to Heaven.  All youth groups go to Air & Space.  US History gets its share, too.
Somehow the first time I went to DC for the March I imagined we wouldn't be allowed into the museums during the March.  I guess I figured we were the rabble that had to be kept away from the innocent visitors.
Actually: As long as you comply with the rules & regulations for the museum of your choice, you are welcome to come inside.
And hence this year I confirmed that if you want tranquility, and a surprising number of Dominicans, go to the National Gallery.   You'll spend $40,000 on lunch in the cafeteria (but it's decent food).  But maybe also you will be able to personally identify the person in art who looks most like yourself.
This is me & my kids a few years ago: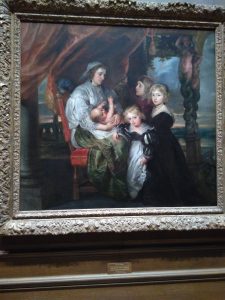 It's not so much the precise physical resemblance as the Oh my gosh, someone has painted a picture of my life.  And yes, we're as tired as we look.  Here's a version not from my phone:
The kids are little taller now.
All photos & video by Jen Fitz except that one you can find on Wikimedia, Public Domain.