I was in Target looking for a birthday present.  "Does your friend like games?" I asked my daughter.   I wasn't seeing much in the way of horse things, which the friend definitely likes.
"I think so," she said.
The trouble with games is that you don't know which ones the birthday girl already has at home.  I scanned the shelves looking for something new enough that it was unlikely the friend already had one.  What I saw was this: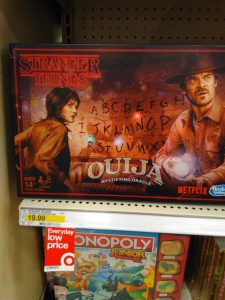 Well. There's a game I don't care to discuss.  "Go find your sisters and tell them we're heading to the craft store."
I snapped a photo (so yes, the Ouija board pictured above was on sale at your local Bible Belt Target store on Saturday 11/18/2017), and then we left and went to the craft store and found a book about how to draw horses, done.
The Trouble with Ouija Boards
Here's the thing your children need to know: If you ask for supernatural assistance, you may well get it.
Supernatural can be good.  You can ask your guardian angel to watch over you in particular way ("Keep me from spending too much time on Facebook, please!").  You can ask saints to pray for you.  You can of course ask God for everything you need — something you've been specifically instructed to do.
But the idea that there are only good supernatural beings is foolish.
Let's look at this from a not-specifically Christian viewpoint.  Many people who don't belong to any particular faith still recognize that there exists some kind of spiritual world, some kind of spiritual power.  You might not be someone who can say with confidence "God is like this _____" or "When you die, this _______ is what happens."  And yet you have been around enough that you've come to recognize there is more to this life than what meets the eye.
The other thing you know is that, here in the realm of what-does-meet-the-eye, both good and evil exist.  Yes, people are complicated.  Maybe you don't have a clear idea of how to draw lines between "good" and "bad" in some of the mixed-up situations you encounter in daily life.  And yet you can definitely recognize that there are things people do that are totally, beautifully, heroically good; you also can name a few things people have done that are unmistakeably evil.
In the spiritual world there are good and evil as well.
When you pray, presumably you are asking for good spiritual assistance.  Even if you aren't sure exactly who you are praying to, or what kind of help you can hope to receive, you are probably not wishing to have evil visited upon you.  That connection you feel with something bigger than yourself is presumably leading you to look for peace, joy, and goodness in your spiritual life.
(If you go around openly asking for evil — for assistance doing bad things, or for bad things to happen to you or to others, well . . . #1 knock it off and #2 you are proving my point.)
A Ouija board is not a tool for seeking only good.  You may have good intentions, but the reality is that when you play around with the board, what you are doing is laying out an open invitation to whatever supernatural agent wants to come your way.
If you want only good in your life, skip the board.  Ask for what you really want, don't send out the "Hey, whatever you want to do to me is just fine, you unknown mixed bag of good and evil supernatural persons!"  Would you make that offer to total strangers on the subway?  No you wouldn't.  Don't make that offer to the supernatural world either.
Avoid the board.  Be choosy about the kind of spiritual connections you ask for.  Seek out the good that you (rightly) long for.  It's okay to pray even when you aren't good at praying or don't have a church or don't have all the answers.
It's okay to pray to God that your departed loved ones be in a good and happy place.  It's okay to tell God that you are consumed by sorrow and grief, and you are so lonely without the company of the person you loved so much.  It's okay to beg for help in dealing with the horrible situation that has you so overwhelmed you don't even know how to get up in the morning — but always, always, always ask explicitly for good help.
You don't need more evil in your life.
Ditch the board.
***
Related Links
For my Christian friends, here are a few quick links that may be helpful:
FYI I've asked around among my reliably Catholic friends who watch Stranger Things.  The consensus is that the show does not contain nor promote occult practices.  It may or may not be something you want to be watching, but the connection between the show and the promoting of the Ouija board is spurious.  (Someone compared it to existence of Lord of the Rings Tarot cards. There is absolutely nothing in Tolkien favorable to the occult . . . but people will sell you whatever the heck you're willing to buy.)