I always carry a knife sharpener, this one, when I travel, because I abhor dull knives.  In the US when I travel I either bring my own chef's knife and cutting board, or anticipate buying one at my destination if necessary. I didn't need any of that in France, I discovered happily and without too much surprise.  The French are civilized and value good meals.
In Chamonix on the Epic Vacation, while the boy trekked away at summer camp, two girls and I invested in lift passes for the valley and spent the week riding up mountains.  At the Aigulle de Midi lift, they check your bags before they let you into the cable car. 
The amount of profiling going on at the security checkpoint was blatant.  A group of climbers were waved through at a glance.  I opened my backpack and the security guy noted the heavily bagged, unidentifiable object within.  "What is this?" he asked.
"Picnic," I said.  Cutting board, a good sharp knife, sausage, bread, cheese, and so forth.  I was concerned that after a long wait we'd be sent home because of the knife. I prepared to open the inner bag and see if I couldn't talk the guy into holding the knife for us to pick up when we came down at the end of the day.
But the guy never even saw the knife.  I said picnic and he didn't bother to look further.  Middle aged lady with a couple little girls in tow.  If I say it's my picnic, it's probably a picnic.  He assumed, rightly, that neither I nor the climbers, though they too of course were equipped with sturdy knives, had any intention of stabbing our fellows during the long ride up the mountain.
An Armed Society . . .
Security in France is pretty good these days.
This is a photo of the TGV station at Charles de Gaulle airport: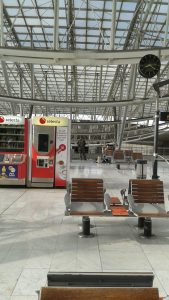 In the foreground you see a seating area and reputable coffee machines (I'm not sure how good they are).  Look deep in the center of the photo.  That's one of a group of four heavily armed soldiers who were doing the rounds outside the secure area of the airport.  They are, in this photo, all standing guard looking down towards the platform while the TGV from Marseille arrives and unloads.  Once the train emptied without incident, they continued their patrol.
There are groups of soldiers like this throughout the country at key spots (the Strasbourg cathedral had its share), and armed police stationed elsewhere. When we visited the shrine of St. Odile, an officer (with back-up on the grounds) was stationed at the monastery entrance all day.
Officers like these are the reason that the stabbing in Marseille earlier this week was limited to just two victims, instead of becoming a mass-casualty rampage.  This is one of the reasons we preferred to vacation in France.  The torpor with which the UK has begun to rearm its police officers did not inspire confidence.
What It Takes to Feel Safe
The reason I feel safer when a group of French soldiers is patrolling the train station is the same reason the security guy at the ski lift let me pass without looking too closely at my bag.  I have no reason to suspect the French military or police are going to harm me.  I could not say that about every group of soldiers around the world.  These officers — four strong men, heavily armed — are capable of unspeakable evil, but they don't commit it.  Those climbers and I, working as a group, would have been capable of holding a cabin of tourists hostage and murdering them all, but we didn't.  We had no desire or intention to do so.
Security works when you manage to make the good guys stronger than the bad guys.
France attempts this via security profiling and a strong police presence, combined with fairly strict gun laws.  The success of this strategy is variable.  You can see a summary of French terror attacks here.   Note that since the 2015 attacks in Paris, off-duty police officers are now allowed to carry firearms — the reasoning behind that is self-evident.
The laws themselves, though, are not what makes security work (when it does).  We can think of nations where the local citizens need to arm themselves specifically against the police and military.  What makes security work is when the law is ordered towards giving the upper hand to the people who can be trusted with it.  The French police generally do not go around terrorizing the populace.
Are Americans Safe People?
Last week I had the chance to listen to Representative Cezar McKnight tell a story from his childhood.  I'll blog more about the context of the story another day.  But here's what he remembers:
His parents, a black couple who by McKnight's telling were sometimes mistaken for a mixed-race couple, owned a nightclub-liquor store in rural South Carolina.  One day his mother, alone with the children, was in the store when men in KKK garb gathered outside.  They had no idea what these men wanted or what their plans might be, but there was plenty of reason to be afraid.  His mother took the shotgun they kept behind the counter and prepared to defend her children and herself if necessary.
She had sound reason to trust neither her fellow citizens not to harm her nor the authorities to come to her aid.
By and large Americans share this sentiment today.  The impulse to arm or disarm America is rooted in the essential equation: How do we make the good guys relatively stronger and the bad guys relatively weaker?
This is a practical question that should not be entirely put off.  Attacks such as the recent massacre in Las Vegas, the Boston Marathon bombing, or the 9/11 attacks are particularly vexing because they pose, in their time, new problems that the (then-) current modes of security have not anticipated.    How shall we anticipate such problems in the future, preventing them when possible and curtailing them when not?  How do you give the good guys the upper hand?
This is not, however, the only way to study the equation.
On the Art of Being Good
What is necessary to make any law work is for people to be good.
It's paradoxical, since of course if people were actually good, you wouldn't need the law.
"Just make people good," furthermore, sounds even more far-fetched than "disarm the bad guys" or whatever other security plans people are devising.   And yet, weirdly, it is the one thing that actually works.
There are police officers who do not shoot innocent civilians. There are soldiers who protect their citizen rather than terrorizing them. There are ordinary people who, though capable, refrain from evil and sometimes even rise to heroic virtue.  Unremitting goodness is the reason you can go buy groceries without being raped and murdered.   Where that decency is lacking, death reigns.
This is hopeful, because we can see that even though nobody is perfect, we can also see that there are places where the people are generally good enough for the purposes of peace and safety.  This is discouraging, however, because evil cannot be fixed with a law or an executive order.
What must be understood in the face of a horrifying crime is that the relationship between good laws and good people is inextricable.  A good law is designed to protect good people and ward against evil people.  The law cannot depend on human goodness alone for its strength, though — it must anticipate abuse of the law, because people will try to abuse it.  But the law itself is not sufficient.
The bulk of the work in creating a safe, civilized society is not in the work of the law, but in the work of helping each other become people who do not do evil things.  Our mission is nothing short of overturning the present culture of narcissism and death.
That is a long road — an unending road. But it is also something that we as ordinary people can work to accomplish.