If you have children home on the loose and need to keep them occupied, here is an updated PDF version of my original Decathlon Summer Reading program:
Jen Fitz's Break Time Reading Program (PDF – Ready to Print)
It's called a Decathlon because I came up with it during an Olympic year, and we went with the idea of being an all-around champion by pursuing ten different subjects.  The way it works is that you earn a small prize every time you complete an activity sheet for any subject.  You can do as many sheets in a subject area as you want (the point is to keep busy, right?).  The big Decathlon prize can only be earned by completing at least one sheet in every subject area.*
Our small prizes were things like a pint of ice cream, but you could make it bonus screen time, time doing a kid-chosen game together, parent does one chore for kid, parent sings a silly song for kid — be creative, and feel free to tailor prizes to each child.  Obviously, prizes only work well if they are items which are reasonable for the parents to offer, but are also something special that will motivate the child.
In the pandemic-version update, I've removed reference to "summer" and also removed all the original prizes, since you may have difficulty acquiring specific items.  On each page, just fill in the agreed-upon prize for the subject area and then your big prize for kids who complete the entire Decathlon. (Our summer 2016 Decathlon award was $50. Only one of our four children was determined enough to earn it. The others, though, stayed busy completing activity sheets in order to get the small prizes.)
I specify "books" for the reading requirements because we developed this program as an alternative to our library's summer reading program.  Given that your library may be closed right now (ours is), if you don't have an extensive home library, consider allowing e-books (your public library probably stocks them), audio books, podcasts, or documentaries.  Part of the challenge for science labs, arts, crafts, etc., is for your child to hunt down the needed information and supplies independently.  There are many resources available online if you don't have a stash of pertinent books at home.  There is no reason fine arts, crafts, and science activities cannot be completed using materials scavenged from your recycle bin.  If you don't have access to the outdoors, Naturalist activities can be done by looking out the window (ID'ing different types of clouds would be an example) or by using a science website to learn what a given plant, animal, or insect looks like, then using Google Images as a collection of samples for ID-practice.
If you are doing it right, once your child gets the hang of how the system works, it should involve relatively little work for you.  The goal is to get kids motivated to try new things and work independently.  If you have very young children and also an older sibling, you could create an incentive whereby the older sibling earns a prize sheet for helping a little one do their activities.  Obviously you should adjust the suggested activities based on your child's age and ability.  I allowed some substitutions such as Lego Sculpture as an art/craft, with parent pre-approval.
If you are comfortable with spreadsheets (or would like to be) and you would like to customize the program, here is a link to a Google Sheets version of my spreadsheet:
Jen Fitz's Break Time Reading Program Spreadsheet
The file is read-only, so just copy-and-paste or upload it into your preferred spreadsheet program in order to modify it.
Copyright information: You're welcome to share this, as-is or in your modified version, including posting on your own website, as long as you (a) include credit for the original and (b) don't charge anyone for access to your version.  This is meant to be shared freely.
Enjoy!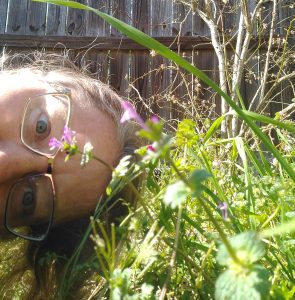 For our photo penance today: Here's me with posing with some of the pollen-producing plants that are causing us all to go nuts wondering whether we are coming down with the plague or it's just that time of year.
*I do include an option to allow one two-for-one substitution and still earn the Decathlon prize.  This allows for a kid who just absolutely hates a subject to do extra work in other areas to buy out of the one dread subject.
PS: Yes, these PDFs look exactly like the graphic artist is an accountant.  Easiest way to cause this to be a brightly-colored, decorated version is to print it out, staple it into a booklet, and give your kids a pack of crayons and let them color it all they like.  Remember parents, goal here is to keep your kids busy, not you busy.