I want to show you my daughter's handiwork and explain how it got this way, because it's a story about what parenting really is.  When you are comparing your crazy life to some glossy home magazine spread, but it's a real home inhabited by real people, I want you to understand that it didn't come from nowhere.
So this is my backyard:
Isn't it gorgeous!  That's the little grilling area off the kitchen.  My daughter (age 14) completely overhauled this space a few weeks ago, with the help of her sisters.  It was her response to the three of them being kicked outside until they'd cleaned the place up, on account of their not being able to be quiet inside for even one hour while I took a nap.
No really, that's the story.
Here's a before picture. Just kidding, but yes, the place was pretty much trashed.
To the left, behind the grape vines growing up around the mailbox, is the famous green castle.  When it was first built the castle looked like this:
That's the top two stories, and in the photo above you're looking at a portion of the bottom floor.  It's a bit worn down now, and we've replaced boards and added shade over the years.  We built it because we only had this teeny-tiny strip of private, fenced backyard area when our kids were little, so we had to build up-not-out for the play structure.
Part of parenting is using the talents you have (my husband did the carpentry) and the resources you have to give your kids some space to grow. This is what we had to give.
Even after this month's clean-up, there's still some trashy-looking stuff behind those red doors, but at least it's down to all purposeful trash.  An example is an upside-down plastic flower pot that serves as a table during "City," the kids' economics game that is the successor to the even trashier (literally) "Medieval Game."  They make up all kinds of sociological experiments when I kick them outside.
More history . . . See this cute wooden bridge leading to the seating area?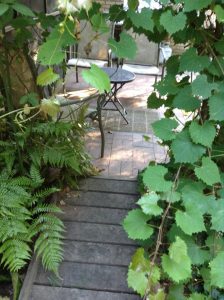 We went to Las Vegas to visit my parents some years ago, and in the early morning while it was still cool out, we'd walk around the neighborhood.  The front yard landscaping in suburban Las Vegas is incredible – just gorgeous.  The kids took photos of yard ideas, because they wanted a pretty yard.  One thing they all liked was a wooden bridge over a rock riverbed formation.  Superhusband built them this bridge for the play yard, and it connects to a second patio where we have a laundry sink.  That area is not very pretty, though it's now 90% less trashy than it was a month ago.
Lesson in parenting: We've had all these moments where the kids recognize and appreciate beauty, and we build on that . . . and our yard is still mostly trashed.  They're still kids.  Their aspirations exceed their self-discipline.  We're still tired parents who don't make them clean up enough.   But slowly the beauty-to-trash ratio improves, year by year.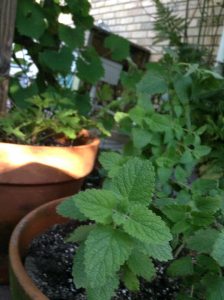 Here's some lemon balm my daughter totally stole out of my part of the yard, and put into a terra cotta pot she also stole.  I'm good with that, she didn't mess anything up.
I love to garden, but I basically stink at it.  My kids have variable amounts of love of gardening, but it's not like we're this amazing family out singing hymns while we hoe all afternoon in the pumpkin patch or something.  We buy plants or seeds, stick them in the ground, and most of what we plant dies of drought or flood or some horrible fungus you don't want me to describe.  But a few things survive, and we learn more about what will grow in our actual yard (the garden books are wrong and the internet is wronger), and slowly it fills with things that aren't entirely dead or pestilent.
Every living plant you see in these photos was a gamble.  Life is a gamble.  You just keep trying things.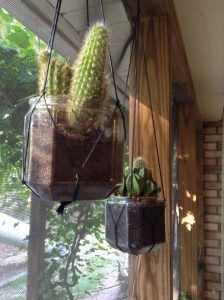 Aren't these hanging cacti adorable?  They are a little freaky if you look closely, because they are leftovers from a life science lab on grafting plants.  She has to have franken-cacti because non-school plants are expensive.  She took kimchi jars (I know! We buy it! We don't make our own!) and sawed off the tops, then made the hanging knotwork out of string that came from who-knows-where.
If you want a kid who does DIY's, you have to let that kid just raid the supplies and try stuff.  This is how my home gets trashed. Yes, my home is mostly-trashed in the pursuit of either beauty or laziness, one or the other.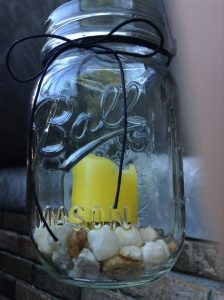 We fought bitterly over where she was allowed to hang her hanging candles.  All supplies totally stolen from other parts of the house or yard.  Hobby Lobby made zero money on this one.
Look at this pretty sitting area!  I got those curtains cheap when the girls were little, and they get used when you want to hang pretty curtains someplace — like if you're having a princess-themed birthday party or something.  They are hanging over the clothes rods and clothes lines that were our attempt to make a place to store all our whitewater gear, but it didn't work out and was a fetid mess.  Blech.
I still don't know what to do with the whitewater gear.  It's piled in my laundry room waiting for a new home.
All furnishings and accessories in this photo were raided from another part of the house or yard.  In some cases there was a weak attempt at either covering up the gaping hole or putting an almost-as-good item in place (like: a bathmat set down by the front door where that rug used to be).
Also, I got yelled at because that rustic wooden box had yucky insects in it.  It was super disgusting, I agree with her there — but she totally wanted me to drop everything and decontaminate just so she could have her coffee table.  Darling, part of growing up is learning to battle insects all on your own, thanks.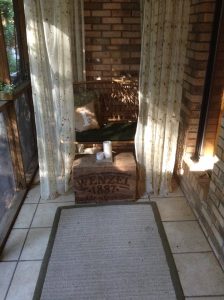 Final thing: The monogrammed pillow.  That was made by the 14-year-old express for this project.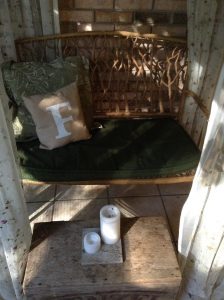 Let me explain to you about this.
My kids have had virtually unfettered access to sewing supplies, including a varying number of rescued sewing machines, over the years.  Prior to the massive clean-out, this porch was heaped with a crazy-mountain of every kind of craft thing.  I don't even have any sewing things, at all, any more, because my children have stolen them so diligently that now it's easier to just make them do the sewing, done.  (I was never any good at it anyway).
If you want kids who craft — who really get good at developing their own style (I never, ever, monogram anything, no child picked up that habit from me), and thinking up a project and giving it a try, and eventually get to where they're producing good adult-quality work — you have to let them make a mess.
Maybe you're good at having them clean up after, maybe you're not.  (I'm not.)  But you have to give them space, and let them experiment, and not be horrible about insisting every project be perfect all the time.  As I write this, my nine-year-old is baking cupcakes.  I just stay out of the room, and she can come ask me questions, and I'll help her with putting things in and out of the oven when the time comes.  If they don't turn out — whatever.  It was only cupcakes.
I let my kids play with paint, and now when I needed a patio table re-painted, I could trust a child to paint it as well as anybody.  I let my kids play with food, and now my son cooks dinner as his primary household chore.  My kids aren't perfect.  Everything they do doesn't turn out golden every time.  When my daughter took these photos, she carefully framed them to not show the less-pretty parts of our life.
That's real life: Part beauty, part mess.  Sometimes you really need to pay attention to the mess, and sometimes you need to sit back and enjoy the beautiful.
Photos by E. Fitz, used with permission, copyright 2016 all rights reserved.