Allow me to tell you a story about this woman who foolishly volunteered to help at church, and wild monkeys came and pelted all the splash bombs at each other.
One of my kids is in classes once a week at St. Optimist's, and a couple weeks into the new school year the director identifies a problem: Students are dropped off at class early (a good thing), and therefore teachers are having a hard time getting their classrooms set up in the half-hour before the program begins.  Due to assorted logistical constraints, it is not possible to set up earlier.
The director assess the situation, looks at our available resources, and proposes: Since we have an empty classroom and a number of background-checked, fully-trained classroom assistants who are free during that crucial half-hour, how about all the kids who arrive early report to the spare room, where volunteers can do music with the kids.
"Music with the kids" is a time-honored way of occupying children during downtime, and the parents are all in favor of extra minutes of music education.  Somehow I am that music person.
–> Mostly likely because I am foolish enough to think: I have long years of experience with keeping children occupied and educated.  I have written my own VBS program from scratch and pulled it off (with the help of a good team), including the part about music-with-kids.  I wrote the lyrics to a VBS song and made up hand motions and everything.  I can totally do this.  Not a problem.
So I say to myself: Some people complain that Mrs. Fitz can be a little dry when she teaches.  These children are about to go into ninety minutes of class time, some of them are quite young, and we don't want to push their sitting-still skills too far.  Also, Mrs. Fitz isn't exactly a trained musician, to put it politely. But she has written a VBS program before.  Mrs. Fitz is usually pretty popular when she thinks up games for the kids, indeed she keeps both Wiffle balls (red and blue for sorting by team) and a bag of splash bombs on hand, because you never know when you'll need them.
This could be why Mrs. Fitz's classes get a little carried away sometimes.  <<– That reality was not something I was thinking about when I wrote up plans for the first go-round.  Indeed we could describe the first attempt at planning the "Music Games" half-hour as "It seemed like a good idea at the time."
It was not a good idea.
It may well have been my most spectacular teaching failure ever.
***
Setting aside all the minor infractions against good classroom management skills that did not help: The game thing just wasn't a good idea.
About half the children were enthusiastic about games and eager to do interesting activities oriented towards developing an awareness of rhythm, tempo, and communication skills (like paying attention to what your singing partners are doing). The other half of the children were clearly hard-wired to receive the sensory input of "there is a foam ball in my hand" and immediately activate the DODGE BALL IS ON centers of the brain.
No one got hurt, and that's about the only positive to report on the post-incident review.
I felt compelled to speak to the other volunteers afterwards and say: "It is very important that you know that I know that our class this morning was an absolute disaster."  –> There are few things more painful than having to return in a week to "co-teach" with someone who thinks that Lord of Flies, Foam Dodge Ball Edition is a desirable classroom experience.
None of the other parents immediately quit the program and moved dioceses, so the frank apology maybe kinda worked.
***
But of course I didn't get fired either, which meant that I had to come back a week later with a much better plan.
The new plan had three prongs to it:
Plan ahead to prevent those minor infractions (of mine) against good classroom management skills.
Plan ahead to be ready for the wild monkeys and know what you are going to do when they enter the room formerly known as Dodge Ball Free-For-All and are tempted to act up again.
Ditch the games and go with a super-calm approach to music time instead.
We can always re-introduce games another time.
And it worked.  Some of those kids who were primed for Total Nerf War made superb music students when I gave them a format that didn't involve anything remotely resembling PE class.   Teachers reported that the kids arrived to class calmer than they'd been all month, and overall behavior the rest of the morning was better as a result.
***
Lessons learned:
No, I am not making it up when I say at the outset of my book Classroom Management for Catechists that yes, in fact I'm horrible at this stuff.  It was a madhouse.  Total insanity.
That's pretty embarrassing, but the following week I proved my other assertion: You don't have to be naturally good at classroom management in order to learn how to teach well.  It's a skill.  You can learn it, and you can review and improve as-needed over time.
I also maintain that there's a time and place for every kind of class. Some groups of kids do really well with active, even boisterous, learning activities, and some kids do phenomenally well with the exact opposite.  What are you, omniscient?  I'm not.  If you plan wrong, change your plans until you get them right.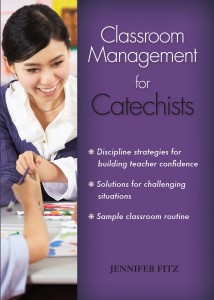 Ordering notes if you are so inclined: For bulk orders, phone or e-mail Liguori and find out what the best deal is.  It may be worth while to combine orders with a neighboring parish in order to get a volume discount.  There's also a Spanish edition, Manual del manejo de clase para catequistas.  The book is useful for anyone who has to manage groups of children.  You can read my summary of what it's about over at my books page.