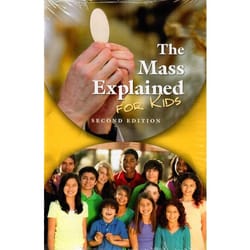 The Mass Explained for Kids is my latest Catholic Company review item, and as usual it is a good one.  I'll cut to the chase: This is an excellent tool for anyone who wants to make sense of the Mass.
What it is: A short, affordable booklet from Pauline Press that walks through the new translation of the Mass.  Even-numbered pages contain the text of the Mass and all the necessary instructions (sit, stand, kneel, rise, bow, beat chest, shut up priest says . . ., etc.).  On the facing page are notes explaining what is happening, what difficult vocabulary words mean,  and all kinds of other useful information.
Why I like it:
I'm always looking for a good Missal to give to non-Catholic grown-ups who come to Mass, that makes it easy to follow along.  This one wouldn't stand out as a kid's book, if you put a sticker over the "for kids" on the cover.  At $1.95 retail, you can afford to send them home with your guests as souvenirs.  It would be pretty easy to put post-it notes at key places when your guest needs to pick up the hymnal.
The explanations are great.  Tons of good info.  But the format makes it easy to read as much as your brain can take, and leave the rest for another day.
There are definitions or explanations for all the new words showing up with the new translation ("consubstantial", "incarnate", etc.).  In addition, all the changes are in bold face.
Who is it for?  People who can read pretty well.   Other than the cover art, there are no pictures.  All the explanations are written clearly, and my very average-reading 4th grader says she had no difficulty understanding them.  But you do need to be ready to tackle big words and gather useful information from your reading.    Words like "epiclesis" and "anamnesis" have pronunciations ("ep-ih-CLEE-sis" and "an-am-NEE-sis").
Useful for catechists?  Absolutely.  The format makes it super easy to find the info you need for class, and the explanations are already translated into plain English.  Much easier than tearing through a pile of Scott Hahn books trying to remember where you found that quote that one time, and/or trying to translate The Catechism into something ordinary mortals can understand.  Plus I learned some things I didn't know.
Other important info:  It's 5.5″ x 8.5″, with a flexible heavy-paper cover, very trim, so designed to be stuffed into your purse in doled out during Mass.  But note the cover is not paperboard, so don't let the baby put it in her mouth. Also there's some info about the Daughters of St. Paul in the back, who have got to have the coolest charism in the universe.  Nuns that run bookstores and a publishing company.  How awesome is that?
****************************************************************
Thanks to the Catholic Company for filling the mailboxes of bloggers with excellent products; this one is coming to Mass with us this Advent, no question about it.   In addition to asking for an honest review (check), our sponsor would like me to also tell you that if you need a Catechism of the Catholic Church or a Catholic Bible, they sell those too.