In conversation related to the epic vacation, a friend shared that her husband has been wanting for years to go watch the Tour de France.  If you'd like to go next year, about the time this year's Tour winds up (check) is when you want to begin thinking and planning.  My tentative answer to the question of whether you the adequately-funded Tour de France fan ought to make the pilgrimage is: But of course!
What follows are my reasons and suggestions based on my (very) limited time spent Tour-watching this month, and my large amounts of time spent driving around rural France.  If you're planning to take the plunge, you'll of course want to consult some experienced Tour-followers for Tour-specific advice and tips.
#1 Reason to go: It is so much fun.
This is my view of the Départ from Vittel this year:
We drove through the middle of nowhere for about an hour (all of it perfectly scenic French countryside), hit a roadblock, got directions from the friendly gendarme manning the road block, and circuited around to get to the ample parking in the town of Vittel.   More friendly gendarmes* gave us directions to the starting line about a ten-minute walk from our parking lot, where we arrived in time to get a spot on the fence, get our cameras ready, and watch the tour take off.
Everyone along the sidelines was happy and excited to be there.   It was a fun and pleasant activity even for we who do not obsessively follow competitive cycling (I know!).
Afterwards we collected up trinkets from the vendors who'd set up booths inside the fenced-off area, then got the girls' eyes checked: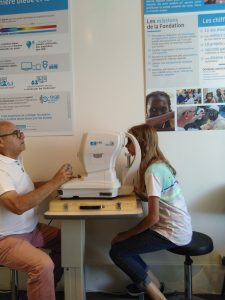 Not joking!  One of the follow-the-Tour activities was a mobile optometry station called Bus de la Vue.  Anyone can get their vision screened, though adults need to understand French because they use a machine that asks you questions you need to be able to answer.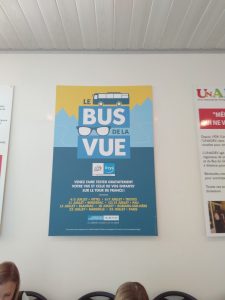 You would get to meet a lot of interesting people if you followed the entire Tour.
Realistic Tour Expectations
In terms of seeing the Tour itself, a beginner navigator should plan for each stage to either:
See the start;
Pick a station along the route to watch the athletes pass; or
See the finish.
Depending on your location you might be able to see two of those.  Two factors, though, should temper your expectations.  The first is that driving in rural France is a slow and circuitous process.  The second is that roads will be closed — even roads that all your research indicated were supposed to be open.
What I wouldn't be afraid of is that every single stage of the Tour be overcrowded and impossibly expensive to visit.  What you do need to plan to do is rent a car (surprisingly affordable) and move from hotel to hotel throughout your tour.   You can't realistically plan to save money by booking a rental apartment, since you'll be moving from day to day.  Your budget-level hotel cost if you search diligently and reserve super-early is about $100/night.
Tip: A "bed and breakfast" is called a chambre d'hôte, and in rural areas might be easier to find than a regular hotel.  (Remember Google Translate makes it possible for you to do all your reservations in the same combination of broken French and dubious English that will be your lingua franca during your trip  — you can reserve off French-language websites, you aren't limited to only staying with people who have English-language reservation systems.)
You could instead rent an RV and do a camping road trip, an option I haven't priced but which seems to be popular.  Know that in an RV you should plan to park at the edge of town and walk in — don't expect to be able to park or even drive within built-up areas.  Transit in urban areas is good, however, so you can make that work.
Staying Married When Only One of You is a Sports Fan
Imagining for a moment that you have both the funds and the vacation time to follow some or all of the Tour, the thorny question is: If my spouse and I attend together, what will this do to our marriage?
Here are some options for allowing the non-sports fan to enjoy some Tour-ing but get overwhelmed by too much cycling:
Drop your spouse off at the day's chosen spectating location, then use the car to go see area sights.
Identify sights at the start, finish, or along the route of the day's stage, so you can both be in the "same" place but not doing the same thing.
Make friends with other loyal spectators, and send your spouse to chase the Tour with them for a day (or more, depending on how good of friends of they are).
Pair up with another couple traveling to the race, rent two cars, and give one to the sports fans and one to the tourists.
Drop the non-sports-spouse off at a train station to catch a train to a city of interest (for the day, overnight, or whatever suits).
Sign up for bus tours of scenery (wine tasting buses, for example) in the region where the sports-spouse is following the Tour.
And of course if your spouse is a sports fan but doesn't have to see every single stage of the race, you could always choose a combination of Tour-watching days and normal-tourist days.
What is not realistic is thinking that you will somehow both watch the race and do other tourist activities on the same day.  In theory that might be possible some of the time in a limited fashion.  The difficulty is that the race takes up the middle of the day, which is when museums and shops and other attractions are open.  Unlike Americans who keep everything open all the time, the French keep strictly reasonable hours.  Also, if you are based in the start or finish-line town, everything in that town may well be closed so all the residents can go watch the race and/or staff the essential venues.
That said, if the non-sports spouse's dream vacation consists of moving from hotel to hotel, wandering the village-du-jour  and seeing whatever happens to be on hand, and then eating a nice dinner together at the end of the day, you're covered.  As ways to make your sports-fan spouse happy, that's a pretty good gig.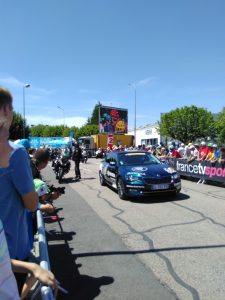 *Security is good throughout France.  My experience is that local and national police (wearing blue uniforms) were generally ready to be helpful unless they were clearly occupied with some kind of serious situation.  In contrast, the camouflage-clad teams of four soldiers roving around carrying we-mean-business-rifles do not want to talk to you, and they do not want you to take their picture.  You can pretty much read the threat level at any given location by who is doing what for security.  The French government is serious about keeping the nation safe for occupancy.