Susan Windley-Daoust is a theology professor, spiritual director, and now Director of Missionary Discipleship for the Diocese of Winona-Rochester. She graciously sent me a review copy of her new book 101 Ways to Evangelize: Ideas for Helping Fearless, Fearful, and Flummoxed Catholics Share the Good News of Jesus Christ, and having read it, I can give it unqualified "buy" recommend.*
Since my evangelization book covers similar ground, what I'd like to do with this review is explain how the two books fit together and who would benefit from each. (If you're curious, SWD's review of my book is here.)
Overview of 101 Ways to Evangelize
Susan Windley-Daoust's book is a compact, quick read, forty pages cover-to-cover. In it she provides a brief five-page introduction to the importance of evangelization and what evangelization is, and then launches into a well-organized series of sections that, combined, list 101 specific evangelizing activity ideas.

If you are familiar with the stages evangelization and discipleship laid out in Sherry Weddell's seminal work Forming Intentional Disciples, the 101 suggestions are outreach ideas geared primarily towards people in the Curiosity, Openness, and Seeking stages of coming to Christ.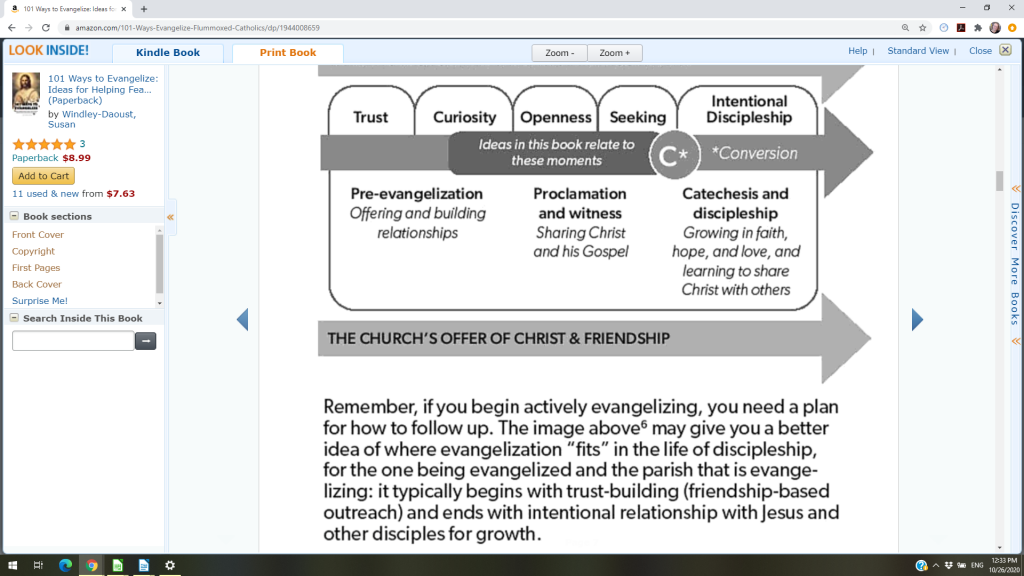 The first three suggestions of the 101 ideas are preparatory work for any evangelizing activity; the remainder are outreach or ministry ideas that can be done by parish groups, by street evangelization apostolates, or by individuals.
Each suggestion is very specific, such as "praying with college students before exams" or "free clinics, or referrals for free healthcare." The suggestions cover a wide range of types of missionary activity covering all the physical and spiritual works of mercy. Most of the 101 suggestions get a paragraph of explanation, but where needed, there's longer discussion including caveats and alternative formats.
Who's the perfect audience for 101 Ways to Evangelize?
This mini-book is ideal for parish groups or individuals who are sold on the idea of evangelization, raring to go, and are looking for inspiration during the brainstorming process. For a ministry leader, this is a book that you can hand to the members of your group, perhaps ask them to focus on a few particularly relevant sections, and quickly build enthusiasm and a consensus on where to get started.
To assist with this, the companion site Creative Evangelization offers a variety of support resources. At Gracewatch, you can purchase the book in bulk in various formats, including a PDF with license to print.
101 Ways to Evangelize vs. The How-to Book of Evangelization
Inexplicable though it seems to me, I am wiling to entertain possibility that some readers of this blog don't actually want to collect every single book on evangelization that they can. So here's the run down of how the two books compare.
The How-to is a massive, bird's-eye view of the entire process of evangelization and discipleship, from trust-building through sending out new disciples as evangelizers themselves. In contrast, 101 Ways provides a snapshot of the why and how of evangelization, and then focuses on generating ideas for specific evangelizing activities.
101 Ways has loads of ideas for street evangelization and parish outreach events. The How-to does include some sample activities, but is more focused on explaining the principles and strategy behind how parish evangelizing works in different contexts. I would definitely pick up 101 Ways if you are specifically looking for outreach ideas, because that's 99% of what the book is, and Susan Windley-Daoust has not played in coming up with suggestions.
The How-to is big. 300 pages big. It's a better choice for people who either want to learn about the topics outside the scope of 101 Ways, or who want to dig deeper into why different types of evangelizing activities work the way that they do. For many people in your parish, 101 Ways will be a better fit: It's short, quick, and action-oriented.
If you're in parish leadership charged with some aspect of making big-picture decisions about parish strategy, you want The How-to, because it will help you understand how different aspects of evangelization and discipleship fit together. It will help you make strategic decisions, and it will help you communicate with parishioners by giving you the words you need to explain how xyz ministry fits into the big picture.

But when it is time to mobilize the troops, 101 Ways will be a much better book for parishioners who aren't big readers and who just want to get moving on outreach-oriented activities and events.
101 Ways is smaller and cheaper than The How-to. Oh, come on, we all know that matters!
For your personal needs, it's just a question of what type of book you want and what kind of content you'd like to read. For a parish purchase, I'd say that The How-to is the one you give to your ministry heads, that you stock a copy or two in the parish library for people to borrow as-desired, and that you might purchase a dozen copies to be re-used with study groups over the years. In contrast, 101 Ways is the one you purchase in bulk for everyone in the parish, stick in the literature rack, or leave in the hymnal holders in the pews for people to peruse and perhaps prayerfully consider for inspiration.
Is one book better than the other?
Nope. Two different books for two different needs. You can read the samples at Amazon, but I'd say both of us have a similar style in terms of readability. We're both coming from the same school of thought in terms of what evangelization is and how it's done.
If you read 101 Ways to Evangelize and your appetite is whetted and you want to learn more about the huge topic that is evangelization and discipleship, check out my book. In contrast, if you loved my book, you're all inspired by the conclusion and now you are raring to go, you'll like 101 Ways to Evangelize for the many, many, many different specific outreach ideas to get you started.

It's a win-win.
***
*You might wonder why my reviews on this blog are overwhelmingly positive. Very simple: If it's not a good book, I don't waste my time on it. In order to get reviewed here, a book has to (a) be interesting and well-written enough to entice me to read the whole thing, and (b) be of sufficient value to my readers that it's worth my taking an hour to put together a review. I read, or begin to read, plenty of books that never manage to clear both those hurdles.