So there's this image circulating in my diocese, which I will not publish lest I propagate weeds, that shows a seedling and a Ven. Fulton Sheen quote. It's not a bad quote.  Here's the latter part of it, which does not accompany the seedling:
A person is great not by the ferocity of his hatred of evil, but by the intensity of his love for God. Asceticism and mortification are not the ends of a Christian life; they are only the means. The end is charity. Penance merely makes an opening in our ego in which the Light of God can pour. As we deflate ourselves, God fills us. And it is God's arrival that is the important event.
Absolutely true.  And with that conclusion attached, the beginning makes perfect sense:
We can think of Lent as a time to eradicate evil or cultivate virtue, a time to pull up weeds or to plant good seeds. Which is better is clear, for the Christian ideal is always positive rather than negative.
The trouble is that if you have just the beginning portion, and also you garden, the incomplete quote is nonsense.
You have to weed.  You have to prune.  Sometimes you have to irrigate, sometimes you have to anti-irrigate. You have to mulch, and you have to rake away would-be mulch that harbors disease.  You have to select the right plants for the right micro-climate, and sometimes that means moving a plant to a better location.  Sometimes you need to thin out plants that have grown in too densely, and other times you allow a plant to fill in copiously so that it suppresses weeds.
Sometimes you want to have annuals growing in that enormous planter by the front door, but the cat keeps sleeping in the dirt and rolling on your flowers, so you have to find a little flower pot to put inside the big flower pot, so that you can have your cat and your flowers too.  Definitely a metaphor for the spiritual life, because the cats aren't going away any time soon.
Lent means spring, and in spring we do all these things, and also we worry about cold snaps getting the plum blossoms, so . . . probably that is the only applicable Lenten metaphor that stands on its own: Quit worrying about your plums, there's nothing you can do and anyway they always get some nasty rot in June if you do get fruit, so why do you even bother? — Attributed to St. Francis, St. Augustine, and of course Abraham Lincoln and Eleanor Roosevelt.
Ven. Fulton Sheen is absolutely right, the goal of weeding is so that your garden can flourish.  The goal is not to create sterile ground, free of all life.  So make sure your Lenten weeding, if that's what your soul needs this year, is ordered towards cultivating your love of God.
The feel-good abridged version? Makes one sound like one of those ignorant types who imagines farming unskilled labor.  It is not.
Obviously you need to plant the good seed of faith or else your weeding is to no purpose.  Obviously you need to be careful in your weeding so you don't uproot your fragile faith.
And here's an advanced gardening tip: With enough years experience, you can start making educated decisions about what weeding to prioritize, because you understand better which weeds propagate when and how, which are most likely to cause serious problems, what times of year (or weather-week) each are easiest to root out, and which plants that seemed like weeds will actually help your garden flourish.
Thus we get to the moral of today's rant:  If you can tell a weed of vice from the seedling of faith you are trying to cultivate, feel free to root out the vice this Lent if you so discern.
Up to you.  It's your Lent.  To quote GK Chesterton some smart person on Catholic Twitter (not me): The Internet is not your spiritual director.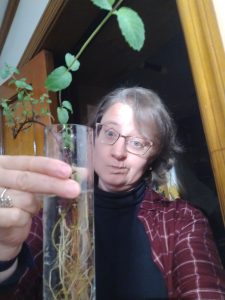 Photo: Continuing with our photo-penance at least one more day, here's me holding a vase with mint in it.  I was weeding the mint bed and accidentally pulled up this cutting, so I stuck it in water and let it root, and soon I'll put it in the ground.  "Soon."
Meanwhile, here is your deep spiritual metaphor from the garden for today: If you root mint or basil or any other easily-rooted plant on your kitchen windowsill in the summer, every few days you need to dump the glass jar, rinse it out, and thoroughly rinse the roots of the plants as well.  Otherwise you'll have mosquitoes.*
You have to rinse even the plant roots because the mosquito larvae will stick to them.  And that is a perfect metaphor for __[fill in the blank] __.  I'm sure you can think of something. Probably related to Pentecost.  Since it's a summer** metaphor.
*Unless you live someplace without mosquitoes.  If that's you, kindly give up gloating for Lent.  We don't want to hear about your magical land.  I bet your plums don't rot either.  Hush.
*By "summer" we mean "when the mosquitos are."