I like to think of myself as a parent who is well-informed on the hazards that face teens and young adults.  You do what you can, hope for the best, and understand that sometimes your child's free will is going to force an uncomfortable confrontation.  Still, I genuinely never so much as imagined, not even remotely, the conversation my husband and I had to have with our 19-year-old this morning.
He told us what he was planning to do.
We gave him our reasons for why that behavior was no longer acceptable in our home.  We observed that his decision affected the safety and well-being of not just himself but his sisters, his parents, his friends, and who knows how many others.  I suggested some readily-available, reliable, neutral, third-party, expert sources he could use for making an informed decision about his plan of action.
And then my husband summed it up: "Son, I'm sure your friends are fine people.  We respect that you are an adult, and you're free to make your own decisions.  But if you insist on going to Bible study tonight, you're going to have to find other living arrangements."
Whoa.  Ha. #CoronaLife.
Never thought I'd hear those words.
I quick gave Mr. Boy a long list of alternatives that would allow him to continue hanging with his FOCUS buddies and maintain physical-distance too. I encouraged him with the hope that the US will quickly act to bring about a turning point in our present handling of the pandemic (via expanded testing, ramping up manufacture of protective equipment, etc.) such that we can become more targeted in our isolation practices.
But, at the moment, living amidst an unchecked outbreak, grateful our local hospitals are taking swift action to mitigate the situation, but also knowing that our go-to physician has not a single N-95 mask in her office? We need to be more careful than, on the face of it, one would assume the situation warrants.
That said, if we get to the point where his Bible study friends are Prepare Your Church for COVID compliant, we can talk.  Except of course we have a mild cough going around our house.  So home it is.
***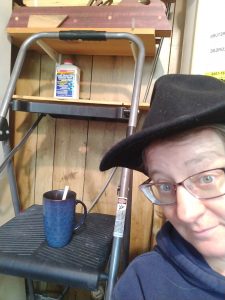 Photo penance: I've upgraded my office-in-exile with an open step ladder squeezed between the water heater and the spare fridge to create a place to set my coffee while praying.  Yes, I am a chemically-dependent pray-er. Sorry to dash all your illusions about my piety.  Here, enjoy this charming video of a stubborn Italian man going out for coffee.