#1 Fr. Gonzo finishes strong. I probably shouldn't call him that, it might encourage him.  The man who gave me this thing forty-something days ago decided to launch, his words, the "Mother of All Easter Vigils."  If that man left out even a single speck or jot of an option, as found or legitimately inferred in ye olde Roman Missal, please, not a word.  Also next year, I'm having a nap and a cup of coffee before the vigil.  Or else just doing like last year and going to the Sunday evening Easter Mass, which was quite nice and ought to be offered more widely.
#2 There was a bacon accident.  Sometimes people are like, "Oh you're a homeschooler? Could you make me a craft and a casserole?" These are the very same people who would squirm if I said, "Oh you work in an office?  Could you make me a 1040x and a manuscript proposal?"  So anyway, I tried making bacon in the oven Sunday morning, and I did it by following the directions on the package.  More or less.
The difficulty is that it came out perfect.
Perfect bacon is cooked to the point of extreme crispiness, just short — but nearly to the point — of crumbing at an untoward glance.
Sadly, the man I married and many of our offspring are under the impression that bacon is meant to be sort of chewy and moist.  I'm okay with that.  All bacon is good to me.  I will totally put on my inner St. Therese and eat wet bacon.  No problem.  Canonize me now.
But I accidentally cooked the bacon too long, and it was extremely, very, astonishingly good.  The difficulty is that there wasn't any spare bacon to undercook for the other people, and that was kind of sad.  I'm open to continuing practice on this art until I nail it.  Eight weeks of Easter calling my name.
#3 First child trained in the ways of the IRS! It's pleasant having Easter after the taxes go in.  I literally dropped off four envelopes at the post office on the way over to the Vigil.  Mr. Boy got A Real Job last summer, which means he had a real tax return (two – one federal, one state) this spring.  I had him do the process step by step on his own, and then I'd check it and show him what he did wrong (if anything — a 1040EZ isn't that hard, even if it's more complicated than it used to be), and he'd fix it, and we'd move on to the next thing.
It is well worthwhile to start doing your taxes on your own right from the beginning, and to keep with it year after year as things slowly get more complicated.  Pays off in the long run.
#4 Fedex is a wondrous thing.  It'll be three kids and I on the big trip this summer, and I ordered those three some useful books to prep for the trip and work on their French.
FYI of all the suppliers I found, Decitre.Fr had the best deal on international shipping if you're looking at many low-budget books rather than one expensive book.  Each kid received a book on the Mass. The boy received two history books and an atlas.  The girls each received a coloring book on Alsace (primary destination), a second coloring book on a relevant topic (history for one, all-things-Christian-faith for the other — between the two, they'll have encountered most museum, historical site, and art-related vocab), and a book of personal interest for motivating the reading practice (cats or rabbits).
I went with cheap books because I wanted them physically light and compact, and intellectually not too intimidating.  That also allowed for a slight overflow on the order, so duds could be culled and everyone still get good books.  –> Not true duds, but a couple of the books that looked nice on the internet turned out to be either too little-kid or else too difficult for a beginning student of the language; I set those aside for me.
Anyhow, on international orders there's not an option (with Decitre) to have books sent in sub-packages, and I knew a few of the books would take a couple weeks to be ready to ship.  So when I got the shipping notice Spy Wednesday, I figured it would be a late Easter?  Nope.  Packaged Wednesday morning, queued at CDG by Wednesday evening, onto a plane and into my local Fedex office Thursday morning.  I went out for a walk Thursday morning, and as I was coming back to my yard at 9AM the Fedex mini-van showed up with a package for me to sign.
You didn't used to be able to get foreign books this easily.  I like the modern world.
#5 Journaling Bibles.  So that left one child with no books in her basket, because: Poor planning.  The Easter Bunny was pretty pleased she'd gotten to Aldi to pick up Not-Slave-Labor chocolate, thanks.  So then the bunny remembered this argument from a month earlier.  The girl is in the FCA at school, and apparently all her friends have "journaling" or "notetaking" Bibles.  These are Bibles with wide margins or other white space where you can essentially illuminate your own manuscript.
Could she have one for Confirmation please?  And how about right now, so the Holy Spirit can get to work ASAP?
The difficulty is this: Apparently Catholics have given up on illuminating, or else we just don't publish trend-Bibles — I'm sure our publishers are full of good excuses for the lapse.  The situation is bad enough that Catholic Icing has a great tutorial about how to convert your Catholic Bible into a journaling Bible by covering up the footnotes with bits of paper.
A girl I know does not want to cover up footnotes with bits of paper
Thus in the spirit of Easter is For Heretics, Too, I caved.  On the way home from Costco with all the Easter food, I did check my local Catholic bookstore to see if there was something, anything, that I could pass off as a journaling Bible, but no dice.  (There are lots of great Catholic Bibles out there, by the way.  Just not ones for coloring in.)  But after that, into the breach: Walmart for Bible-shopping it would be.
[Sheesh, guys, I'm buying some unapproved-translation, books-missing Bible for coloring in, I'm not shelling out a lot of money on this, really??]
Walmart is smarter than a Catholic publisher.  They carry a mass-market, paperback version the HCSB Illustrator's Notetaking Bible, and it's easy to find if you go to the book section — shelved both with Bibles and with adult coloring books, since it's both a Bible and a coloring book.  The inside looks like this:
My child wasn't looking for one that was pre-illustrated, but we both secretly like it.  Some of the illustrations are very apropos, such as the image of Christ Crucified in the margins next to Isaiah's Suffering Servant prophecy.  I could do without Mary With Rosy Cheeks, but Catholics have done far worse to the Blessed Mother and somehow the Church still stands.
My teenager spent her afternoon working on her Bible.  Her younger sister said, "We should have brought these to that retreat last month!"  I think I can work with this trend.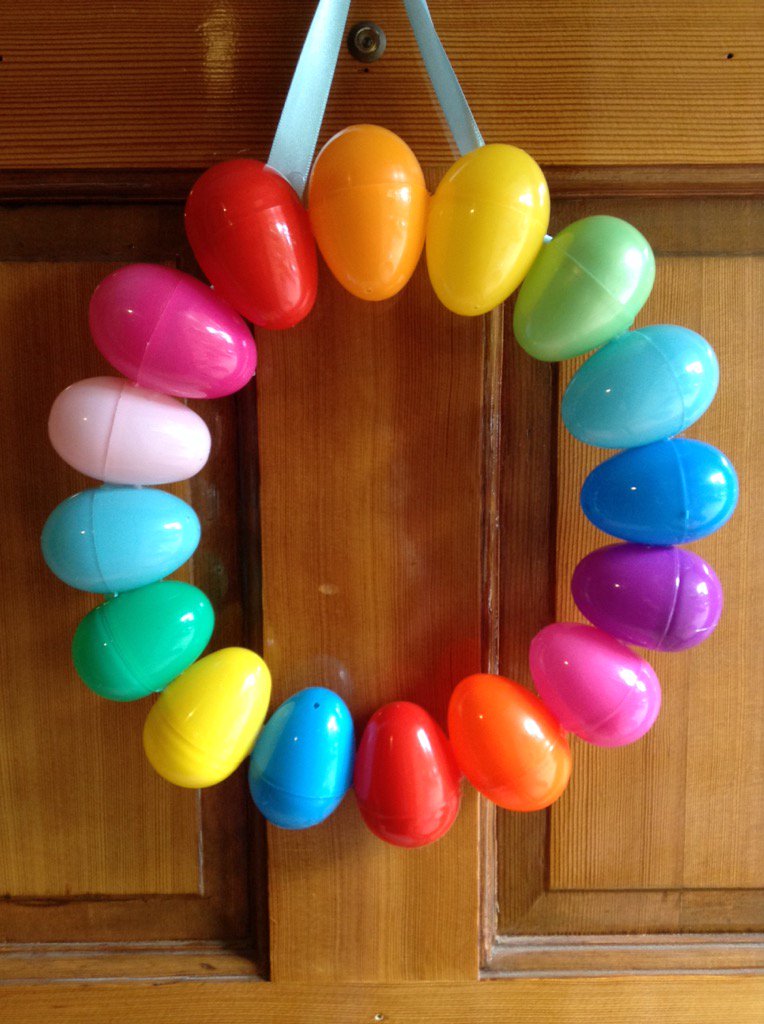 Easter Egg Wreath by #3.  Leaving a child alone with a hot glue gun has its advantages.  For more on the cost of becoming a Pinterest Parent, see here. Okay, I see the photos aren't loading anymore.  I'll fix that and update. [Update: Okay – all fixed now, I hope!]  The text explains the less-pretty parts of the crafting life.