This week I'm in Orlando, Florida (on vacation), and everywhere you turn, there's some kind of rainbow-themed promotion of this or that deadly sin.
Pride is the one being touted most.  The stores chiefly profit from envy and avarice, but why should those two get all the limelight?  Gluttony reigns in the food courts; given all the theme parks and tourist attractions vying for attention, around here sloth gets short shift.  Wrath is virtually ignored by comparison to the others, and lust, curiously, continues to fixate on the bodies of scantily-clad thirteen-year-old girls — you might celebrate attraction to every body and its brother, but advertisers play it conservative with consumer tastes.
Three good articles (one of them mine) that are variations on the theme:
As Father Longenecker observes, the whole question of Catholics vs. Gay People is dreadfully simple:
Therefore when we consider those people who are attracted to people of the same sex, the church teaches that they too are to be celibate.

What else is there to discuss?  Further discussion on this particular point is an attempt to wiggle out of the Church's tough expectations.

The only other thing we have to discuss is how to minister to all the people in our care who, for whatever reason, are not able to enjoy sexual intimacy with another person. How to live chastely and how to deal with celibacy is the challenge–not just for homosexual people, but for anyone who is unmarried.
Vincent Weaver, who sometimes blogs here, writes at The Register about authentic kindness towards people struggling with gender-dysphoria:
This honesty shouldn't be reserved for those with GID or same-sex attraction, though. Cohabitation, contraception, and pre-marital sex among heterosexual couples all have significant, damaging side effects. We should study these and be familiar with them so we can fully love those who are considering or are in the midst of such lifestyles.

To fail to love someone in any of these situations is failing in kindness. But, to say nothing or to not be honest with people is false kindness.  In some cases, we may literally be killing them with kindness of this sort. Jesus told us not to judge (people). But, he also obligated us to address harmful behaviors and told us that "The Truth will set you free" (Jn 8:32). Let's practice a religion of kindness that is the real deal. Gentle. Caring. Helpful.
Also at the Register, here's some early NFP-awareness from me: Please Don't Ask Me About My Sex Life.
The goal of contraception is to separate sex from fertility. It's a goal so thoroughly achieved that people get shocked and offended if you suggest that pregnancy is the normal, predicted, even desirable outcome of sexual intercourse.

We now of course separate fertility from sex as well, thanks to IVF, artificial insemination, and surrogacy.

The result has been a traffic in children fueled by a newly-acquired conviction that offspring are something you order off a menu – and send back to the kitchen if the dish doesn't appeal after all. Even for pro-life, Christian couples, the idea of not using contraception is radical and foreign.  "Family planning" is so ingrained in our mentality that we consider it irresponsible or simply unthinkable that one would plunge into parenthood with no particular strategy other than to welcome the children God sends.
Why wait for the last week of July, when you have the marital privilege of being NFP-aware all year long?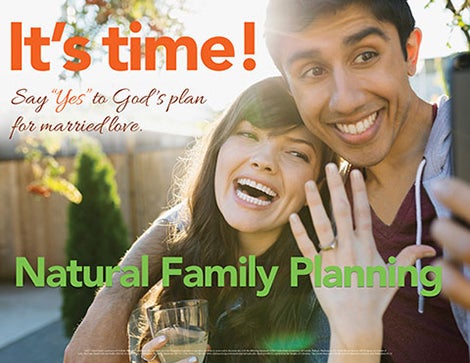 2017 NFP Awareness poster courtesy of the USCCB, where you can find lots of useful information for your awareness purposes.  The models were chosen based on their ability to best communicate the theme of "Hahaha we have no idea what we're getting into!  But we can't help ourselves!  What? There's a class we're supposed to take that will hopefully sober us up long enough to seriously consider what it is we're about to commit to for the rest of our lives?  Hahahaha have a drink, okay?"