I'm about a year overdue on a personal update.  Short version: It's good.  Very, very good.
How good is it?  So good that if I don't work and workout enough every day, I get restless.
And that's about all there is to say.  About me, anyhow.
***
I thought I'd post an update now because the last of my homeschoolers is starting school next week, and that can make people think, "Something must be wrong," or, "The mother must be burned out," or stuff like that.  My close homeschooling friends are aware that L. & I were due for a change of format, and we looked into creating a multi-day hybrid school (which may yet happen a different year); both of us seem to do better when we're working with a group of friends rather than just the two of us solo.  But I would have gladly transitioned that direction and kept on homeschooling.
What happened, though, is that A.'s 6th grade teacher got to talking about schools for next year (for A.). My 8th-grade homeschooler L. & I did the advance work scoping out a school the teacher suggested we look into, and L. loved the school.  It seemed ridiculous to tell a kid that she shouldn't try a thing she really wants to do, that looks like it could be a good option for her in terms of her total formation, and which was a realistic option for our family.  Starting at the midterm in 8th grade (at the administration's invitation) seemed like a wise idea, since it allows L. to give the school a try before the pressure of high school credit- and GPA-tracking kicks in.
Something fun: We were nervous about the school's placement exams.  L. is a super-bright, extremely observant and creative kid, with an undeniable knack for problem-solving, but test-taking is not her strong suit.  She's an outside-the-box thinker, and she doesn't excel at working under pressure.  The school (small, church-operated) is not equipped to provide extensive learning support services, so they assess students prior to admitting them to make sure the students are coming in on grade level.
We were a little worried, because I grade that child's math tests.  I know she can solve the problems (because she can explain how to solve them, teach other people, etc.), but her tests don't always show it.  She sat through a day of 8th grade classes and said she was confident she could do the work, and I trusted her judgement on that — but wasn't sure the tests would agree with her assessment.
Much to her surprise, even though she thought she did poorly on the math exam (and perhaps she did), she placed firmly at grade level.   Double surprise: She placed in a 12th+ grade level for reading comprehension.  (Spelling . . . not so much. But we knew that was coming.  Not a show-stopper.)
Sooo . . . guess that homeschooling thing was going okay.
She's excited.  I'm happy for her.  And now I'm figuring out what my new occupation is going to be.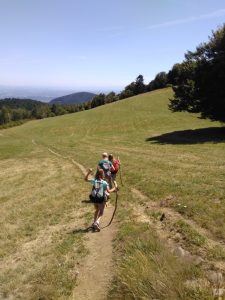 Here's a nice hiking photo from France last summer.  By "Here's a nice hiking photo  . . ." we mean, "Why yes, it's going very well, thank you."